Digital multimeter / with laser pointer / with IR thermometer and pointer - -20 °C ... +550 °C | HHM290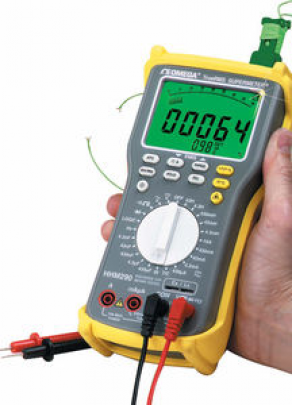 Omega HHM290 infrared pyrometer features patented laser circle/dot sighting. It features an optical field of view of 10:1 as distance to spot size ratio. It is a top-performing device with a robust design and a large LCD display with backlight. It can measure capacitance, current, voltage, frequency, inductance, and resistance.

HHM290 features digital emissivity adjustment from 0.1 to 1.00 in 0.01 steps. It includes Dual K type non-isolated thermocouple inputs and T1 & T2 temperature display and differential temperature of (T1-T2). It has integrated diode and logic testing.

HHM290 can generate power either through an AC adaptor or a battery. It allows power to be automatically shut off. It supports tripod mounting and has an integrated rubber boot.
Any questions?
Please ask our sales team!
Other products: