Radiant heater / electrical - 500 - 1 000 W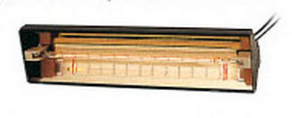 APPLICATIONS :
Radiation heating for textile, paper, cardboard, plastic and film industries and all
applications requiring near zero inertia.
ADVANTAGES :
Immediate turning on and off. High power density. Reflector guaranteeing maximum
reflection and high resistance to corrosion. Practically no maintenance. Emitter tube
easily replacable. This emitter makes it possible to focus on a line from 10 to 60 mm
width, giving densities up to 300 kW/m2.
Any questions?
Please ask our sales team!
Other products: