Sectional door - Rite-Flex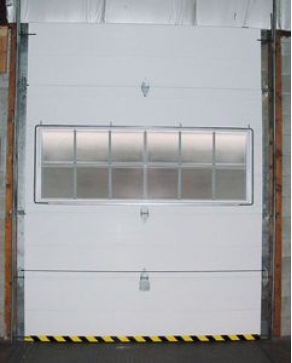 Constructed of impactable GX-4000 panels from top to bottom, the Rite-Flex Door provides a clean, uniform appearance. The exclusive panel design allows for natural light and ventilation options. Rite-Flex Doors can be customized to meet your needs by choosing from several popular configurations.

Flexible Panels
* Shrugs off most inadvertent fork truck impacts
* Panels flex up to 12" without damage
* Proven in over 35,000 installations since 2001
Day-Lite Translucent Slats
Natural light is often difficult to realize in the loading dock area. The Rite-Flex Door lets you light up the dock with translucent acrylic slats, reducing energy use and helping create a safer workplace.

Ventilation Solutions
The loading dock door opening can be an excellent source for ventilation to enhance employee comfort. Concerns for air quality and "closed-door" policies for security and safety often eliminate the option of keeping dock doors open. For those situations consider Rite-Flex Ventilation panels.
Any questions?
Please ask our sales team!
Other products: