Fold-up door / wind-proof - Max 6x6 m | Enduro 5 Trekking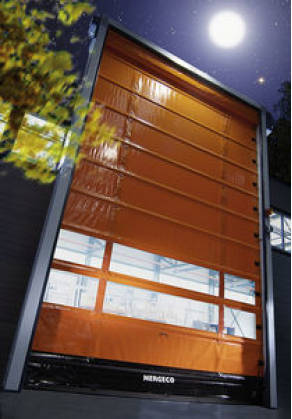 The new Nergeco high speed door for exterior large openings, up to 6 x 6 m:
The Nergeco Enduro 5 Trekking increases insulation and reduces energy costs, repairs and maintenance. The maintenance, production and security Managers like its flexible closing edge, that can be deformed horizontally and vertically. Without any heavy or rigid threshold bar or sensor, it is sensitive and reactive on 40 cm of height.
At each cycle, by added safety on just in time opening and twice as fast closing than conventional doors, the Nergeco Enduro 5 Trekking high speed door can reduce exposure time, and therefore cut energy spending and airborne contamination risk by 23 to 32% at each cycle.

Structures and mechanisms are multi-composite new materials. Developed according to aggressive environments, its structure offers important advantages. Formulation and specific design for each kinematic and mechanical function have led to a significant increase in resistance to tearing, fatigue and denting compared to welded structures. In addition, their shapes are rounded, sloping, smooth, water-repellent and thermal break. In conditions of use, these materials are more resistant to corrosion than 316L stainless steel, which makes them perfectly meet the requirements of taugh environments.
Any questions?
Please ask our sales team!
Other products: