Vacuum blow air blow gun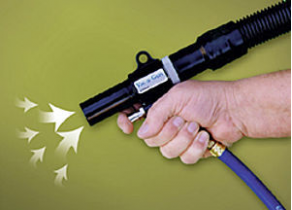 The Vac-u-Gun offers a more efficient way to blowoff, cool, dry and clean. In
vacuum mode, work surfaces can be easily cleaned by vacuuming the debris
away instead of blowing it off the surface only to sweep it up later. In blow
mode, the Vac-u-Gun has a large 1 1/4" (32mm) diameter that allows it to
cover more surface area in less time compared to ordinary air guns.
Transferring materials over long distance is also possible using the smooth bore
hose. Three Vac-u-Gun Systems with tools are available.
Any questions?
Please ask our sales team!
Other products: