Pedestrian tug - 1 t | EZS 010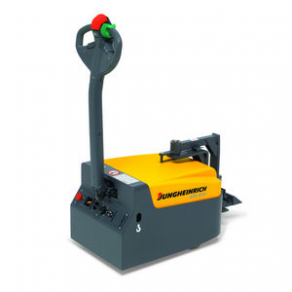 Designed to be economical and versatile, the Jungheinrich EZS 010 is a mini tow tractor that is capable of hauling loads of up to 1000 kg trailers. This family of tractors is perfectly suited for transferring loads in intense applications. Rather than wasting time and energy in manual work, the Jungheinrich EZS 010 allows you to move trailers efficiently, fast and seamlessly. Additionally, these tractors are geared towards a wide range of environments to include hospitals, industry, wholesale, and even supermarkets.

If you need to transport smaller loads over short distances, the Jungheinrich EZS 010 is the best solution. The Jungheinrich EZS 010 ships with a long list of features to include easy accessible coupling, user friendly design, choice of three travel programs, 24 V drive motor and a safety tiller arm.
Any questions?
Please ask our sales team!
Other products: