Electrical hose connection / tear-off control unit for lubrication system - HCC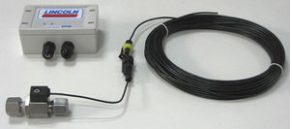 HCC - Hose connection control

For monitoring of lubricant feed lines to bearing points on construction machines exposed to extreme loads and stresses like shovels and backhoes

The electrical HCC hose connection control is a monitoring and signalling unit to reliably check lubricant feed lines for breaks. This unit shows the driver or operator of the machine immediately if there is a fault by
sending a collective fault signal.

Benefits
Easy and reasonably priced way of monitoring difficult to access lines to lubrication points. Hose breaks are detected immediately.
Production downtime and serious bearing damage can be largely avoided.
A broken hose line is indicated by an easily recognizable visual signal. The driver/operator can query an OK signal, e. g. via the machine control.
Risk of accidents and environmental pollution by leaking lubricant can be significantly reduced.
Easy to retrofit into already existing lubrication systems.
Expandable at any time.
System operation independent of temperature and pressure.
Any questions?
Please ask our sales team!
Other products: