Security camera remote control - RM-IP10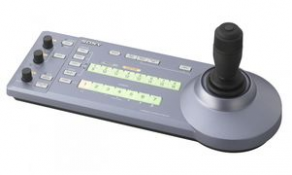 The RM-IP10 remote control panel can control up to 112 BRC cameras over an IP network. 7 cameras can be controlled over a traditional VISCA-controlled network. As many as five remote control panels can share the control system. It is easy to install the RM-IP10 control panel for BRC-H900, BRC-Z330 and BRC-Z700 cameras.

The RM-IP10 control system is compatible with BRC-H900 and BRC-Z330 cameras when they are fitted with the BRBK-IP10 option board. The RM-IP10 is compatible with BRC-Z700 camera when it is fitted with the BRBK-IP7Z option board. Easy installation and set-up save time and cost.
Any questions?
Please ask our sales team!
Other products: