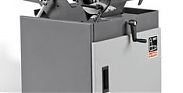 C. & E. Fein Grit GIC is a centreless grinding module designed for industrial centreless grinding of pipes up to 6 m. It also provides an optional pipe guide.

Grit GIC provides high flexibility when machining pipe diameters in the range of 10 and 130 mm. It allows wet grinding and features the GXW cooling lubricant module. This results in cooler surfaces and increased service life of the grinding belt.

Grit GIC can be combined with GI 75 (2H) and GI 150 (2H) belt grinders. Thanks to a quick fastener, retooling is made easier and the need for tools is eliminated. Feed speed, which is infinitely variable, is in the range of 0 to 2 m/min.