Laser engraving machine / fiber / automatic - 1 000 x 610 mm, 10 - 50 W | Speedy 400 fiber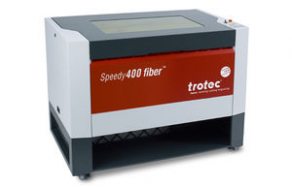 Speedy 900 is a fiber that comes with various advantages, benefiting from advanced fiber laser technology, as well as the Trotec flatbed laser machines. The size of the laser plotter is medium, while precision, economy and productivity are just three of the guarantees made by the manufacturer.

When it comes to laser marking and laser engraving, this item always does its job well, both in terms of metals and plastics. Other impressive features are the 4G acceleration and the maximum productivity for users.
Any questions?
Please ask our sales team!
Other products: