H-FFS bagging machine / flow wrapper / automatic - max. 60 p/min | Moonlight Pba/Pbb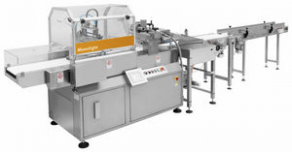 The Moonlight Pba/Pbb is a type of horizontal wrapper, with brushless motors synchronized with multi-axis motion controls. The device consists of a mainframe made of stainless steel construction. The axis control movement is for cross sealing jaws stroke, longitudinal sealing wheels that can be adjusted in height, transport belt through the sealing jaws, and a 2,500-mm infeed conveyor.

The machine comes with an easy-to-use keyboard control panel. The control panel is placed on the frame of the machine. The forming tunnel can be adjusted by the handwheel, while the sealing time can be adjusted by PLC. The cross sealing jaws can be adjusted by height. It is available in different versions for polyethylene film, or a heat-sealable material.
Any questions?
Please ask our sales team!
Other products: