Sit-on forklift / LPG / medium load / handling - 1 500 - 3 500 kg, 2 069 - 2 510 mm | C4G150-350D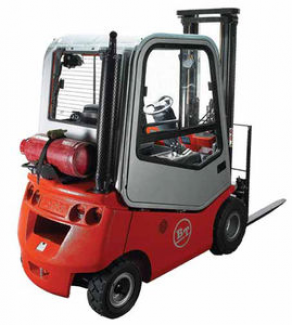 BT Cargo C4G150-350 forklift truck models have made the industrial utility easy and convenient. It has capacity of loading 1.5 to 3.5 tonnes and takes its power from LPG engines. Some of its useful features are having low center of gravity and a stable design. It makes use of two high-power front wheel hydraulic motors that are independent and driven by a hydro-static pump.

This machine has been designed in such a way as to bring convenience in its operation and allow it to give optimum efficiency. It enjoys high acceleration power with sturdy braking performance. All these functions can be accomplished with lesser fuel consumption. It comes with spacious leg-room, open middle step and the suspended cabin silent block. There are also vibration damping rubber mounts attached to chassis to absorb the shocks.

To enhance the comfort of the operator and for efficient working, there is an adjustable full suspension seat and inertia safety belt. The ergonomic design of this cab has a clear mast for better viewing and safe handling of loads.
Any questions?
Please ask our sales team!
Other products: