Hot marking machine - max. 95 x 330 mm | CODITHERM ROUND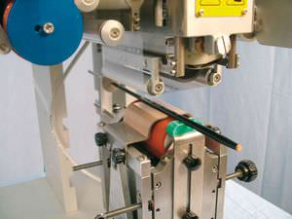 The CODITHERM ROUND printer specifically designed for the printing operations required on round or slightly conical objects allowing a maximum print area of 95 x 300 mm. Depending upon the type of the rotatory device,a couple of models are incorporated.The models being RPC-02 with single driven roller and the RTC-01 with double driven roller.The prior model is meant for the rotation of round objects with a small diameter including pipes,tubes,brushes,being much suitable for conical shaped objects as well. Unlikely,the later model is suitable for round objects with a larger size that include corks,big pipes etc.
The operation involves the holding of the hot roller device by the fixed carriage of the transfer device. As required and suitable to the surface needed to be printed, the hot roller can either be soft or hard. The round object is thus held by the rotating device. Having its motor synchronized in accordance with the movement of the hot roller of the Coditherm,these are widely used in medical phials and containers,plastic corks for wine,round/conical brush handles,cylindrical or conical pots and round connectors or couplings.
Any questions?
Please ask our sales team!
Other products: