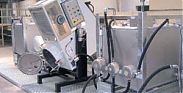 Solvent recycling by means of distilling device
Solvent recycling
Distilling devices allow the recycling and the re-use of solvents, which are used for cleaning and degreasing in the most diverse ranges. The contaminated solvent is cleaned by use of the simple distillation principle by resins, pigments, lacquers, oils etc.

The distillation residues set off at the soil of the boiler (foil bag) and can be removed after completion of distillation problem-free. The clean solvent is caught in the container and reused.