Solar DC/AC inverter / central - 500 - 630 kW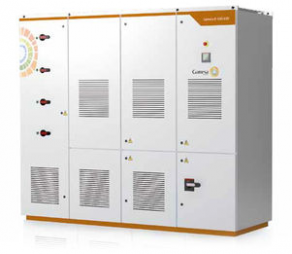 Gamesa's windfarm converters contain two individual, maximum power point tracking (MPPT) systems that optimize performance by offering greater versatility in the structure of the panels for photovotaic plants. They function with the Gmesa control card unit (CCU) meant for adhering to the stringent network connection codes in the most complex situations. The CCU utilized in Gamesa's windfarm converters can be integrated in the photovoltaic inverters.

Gamesa possesses beyond 5000 units functioning in wind turbines across the globe due to their dependability and power. Additionally, it has customized harmonics cancellation level and can match numerous PV panels from various technologies such as thin-film consoles. Its modern ventilation system prevents overheating and storage of dirt as well as offers protections from humid atmospheres. Moreover, it adheres to the highly demanding requirements of network connection codes such as needs to less voltage ride-through (LVRT).
Any questions?
Please ask our sales team!
Other products: