Hydrostatic level gauge / digital - USB, 4 - 20 mA, max. 210 m | LEVEL MATE III series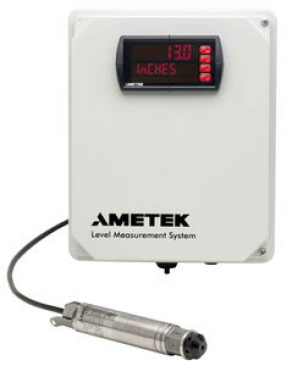 Ametek presents Level Mate III level measurement system. As a standard, it features a stainless steel transmitter. The bottom of the system has a range of perforations. Due to these, the sensing port is protected from clogging or other harm. The same snub-nosed end is also capable of unscrewing. This facilitates simple calibration checks.

The Level Mate III meter is customized. It shows transmitter data and supplies excitation voltage. Also it sends an analog signal for alarm, remote recording or control functions. It can be easily calibrated through front panel adjustments. Set and reset programming are easily enabled by its programmable relay.

The system has a big, high visibility LED display, which provides local indication. Also available optionally is an isolated analog output. This output is capable of interfacing with additional recording, display or control equipments. Ametek Level Mate III Level System is combined in one easy-to-use package. It is the most adaptable level measurement system presently available.
Any questions?
Please ask our sales team!
Other products: