Unmanaged Ethernet switch / industrial - 4 - 8 x RJ-45, 10/100-Base TX | Spider series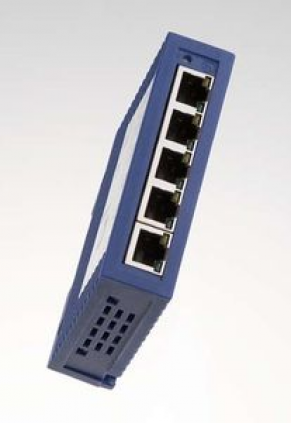 These are the top-hat rail switches belonging to the Spider family / They have been designed specially for utilizing in industrial environment. It can be easily mounted on a DIN top-hat rail.
These top-hat rail switches can support Ethernet 10 MBit/s as well the faster Ethernet 100MBit/s. The set-up of switched Ethernet networks follows the the standard IEEE 802.3 or 802.3 u with copper technique.
Perfect application examples
To make switched Ethernet networks to connect PCs with PLCs

Various applications:
PCs and an ACCON-NetLink-PRO will be mounted to the top hat rail switch Spider which enables every PC to exchange data with PLCs which are joint to the ACCON-NetLink-PRO.

Technical :
It can be assembled on top hat rail. It has easy commissioning through auto crossing, auto negotiation as well as auto polarity. It is fail safe and is highly reliable.
Any questions?
Please ask our sales team!
Other products: